Permanent Resident Photos For Canada
Welcome to Calgary Photo Studio! Are you ready to embark on your journey towards Canadian permanent residency? One of the essential steps in the process is getting your permanent resident photo taken. In this comprehensive guide, we will walk you through the main steps involved in obtaining a picture-perfect permanent resident photo, ensuring you're well-prepared and confident for this important milestone.
Familiarize Yourself with the Requirements
Book an Appointment
Prepare for Your Photo Session
Visit Calgary Photo Studio
Pose and Smile
Review and Select the Best Photo
Read on for further details on every step.
Step 1: Familiarize Yourself with the Requirements
Before you visit our studio, it's crucial to understand the photo specifications set by Immigration, Refugees and Citizenship Canada (IRCC). The requirements ensure your photo meets the necessary standards for identification purposes. These specifications include factors like size, composition, background, lighting, and even your facial expression. Familiarize yourself with these requirements to save time and ensure a successful photo session.
The photographs must be identical and unaltered.
They can be in color or black and white.
The photos must be original and not taken from an existing photograph or altered in any way.
They should be taken by a commercial photographer.
The dimensions should be 50 mm wide X 70 mm high (2 inches wide x 2-3/4 inches long), with the height of the face measuring between 31 mm (1-1/4 inches) and 36 mm (1-7/16 inches) from chin to crown of the head.
The photos must be clear, sharp, and in focus.
The subject should have a neutral facial expression (eyes open and clearly visible, mouth closed, no smiling).
The lighting should be uniform, without shadows, glare, or flash reflections.
The photo should be taken straight on, with the face and shoulders centered and squared to the camera, showing the full front view of the person's head and shoulders.
The background should be plain white, providing a clear contrast between the face and the background, and the photos must reflect natural skin tones.
It is important that the photos are original and not altered or taken from an existing photo.
The photographs should reflect your current appearance and must have been taken within the last twelve months.
They should be professionally printed on plain, high-quality photographic paper. Please note that photos printed at home or on heavy weight paper are not acceptable according to the guidelines.
Ensuring that your photographs meet these criteria will help present an accurate representation of your current self and maintain the required standards for your permanent resident application.
On the reverse side of the photo, it is essential to include the following information:
Full name and date of birth of the subject
Complete address and name of the photography studio
Date when the photograph was taken
Please note that the photographer has the option to either use a stamp or handwrite this information. However, stick-on labels are not acceptable according to the guidelines.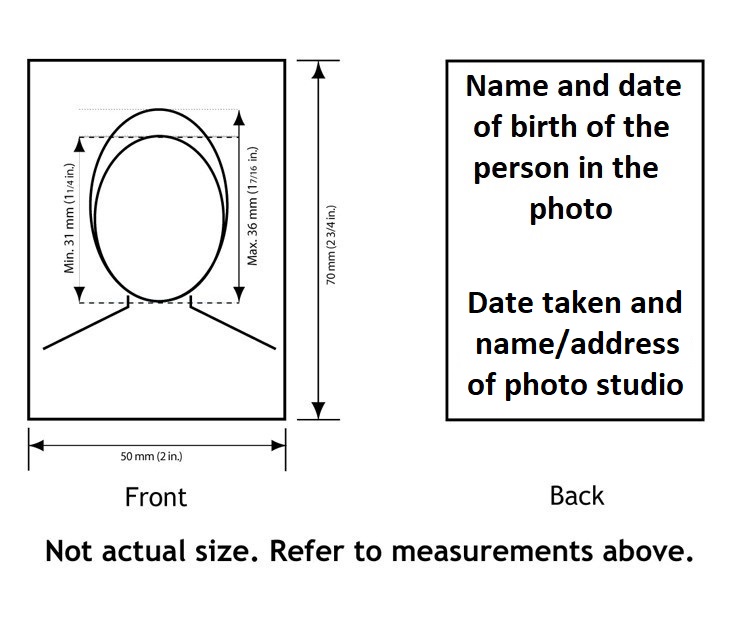 Step 2: Book an Appointment
Once you're ready, give us a call or visit our website to schedule an appointment at Calgary Photo Studio. Our friendly staff will guide you through the process, answer any questions you may have, and find a suitable time that fits your schedule. Remember to inform us that you need a permanent resident photo, so we can allocate the necessary time and resources for your session.
Step 3: Prepare for Your Photo Session
To ensure you look your best in your permanent resident photo, it's important to prepare in advance. Start by dressing appropriately, wearing clothes that reflect your personal style while adhering to the IRCC guidelines. Avoid busy patterns, excessive accessories, or head coverings that may obstruct your face.
Additionally, take the time to freshen up before your session. Comb your hair neatly, remove any excessive shine from your face, and ensure your makeup, if any, is subtle and natural-looking. Remember, the goal is to represent yourself accurately and professionally.
Step 4: Visit Calgary Photo Studio
On the day of your appointment, arrive at our studio a few minutes early to ensure a smooth process. Our expert photographers will greet you warmly and guide you through the session. Don't worry; they are well-versed in capturing the perfect permanent resident photo that meets all the necessary requirements.
During your session, our photographers will help you pose that showcases your confidence and approachability. They will guide you through various facial expressions to find the one that best represents you while complying with the IRCC guidelines. Relax, enjoy the process, and let our photographers capture your true essence.
Step 6: Review and Select the Best Photo
After the photo session Take your time to review each photo, considering factors like facial expression, lighting, and overall appearance. Select the photo that you believe best represents you and fulfills the IRCC requirements.
Congratulations! You have successfully completed the process of getting your permanent resident photo in Canada. By following the steps outlined in this guide and relying on the expertise of Calgary Photo Studio, you've taken an important stride towards fulfilling your dream of becoming a Canadian permanent resident.
Glasses may be worn in photos as long as the eyes are clearly visible and there is no glare in the glasses.
Sunglasses and tinted eye glasses are unacceptable.
Photos with the red-eye effect or red eye alterations are unacceptable.
Hats and head coverings must not be worn, unless they are worn daily for religious beliefs or medical reasons. However, your full face must be clearly visible and the head covering must not cast any shadows on your face.
Your hair can be down.
Shadows are not acceptable. Lighting must be uniform to avoid shadows across the face or shoulders, around the ears or in the background.
Remember, your permanent resident photo is more than just an image; it represents your identity and aspirations. It's a testament to your journey and the beginning of a new chapter in your life. So, put on your best smile, embrace the process, and let Calgary Photo Studio help you capture the essence of who you are as you take this significant step forward.